Pistachio! Rescue Ranger Captions
003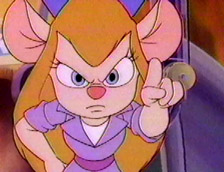 ---
Framwinkle - 2001-08-23
1. Gadget does her Mr. T impression.
Gadget: "I pitty da fools dat mess with my tools!"

2003-04-05
2. Gadget demonstrates her instinct of self-preservation.
Gadget: "You weren't going to watch ANIME, were you mister?!"
---
Tim Phipps - 2003-04-06
Gadget: "HEY! Look at my FACE when you're talking to me!"
---
Larry Larsson - 2004-08-11
Gadget: "Monty! You put down that cheese before I get rough, mister!"
---
NintendoMax - 2005-07-31
http://www.freewebs.com/nintendomaximus
1. Gadget: "Get that camera out of here!"
---
Chris Kreutzer - 2006-05-26
http://www.pionier-clan.de
1. Gadget: "Never say that my idea is stupid again! Do you hear me? I said NEVER AGAIN!!!"
---
Jeff Jedisquirell Hayes - 2006-06-17
1. Gadget: "Dale! Play the stupid Carrie Underwood CD one more time and I'll stab you with proportion dividers!"

2007-06-10
2. Gadget does he Harrison Ford impression.
Gadget: "GET OFF MY PLANE!"
---
Live2dream - 2006-12-09
1. Gadget attemps facepainting...
Gadget: "*grumble* Why won't this blend!? That's the problem with these things NOT being rocket science..."
Dale: "... please don't hurt me."
---
Charles Johnson - 2007-06-01
1. Gadget: "I want YOU to join the Rescue Ranger Reserves! Action, adventure, and all the motor oil you can eat!"

2008-03-18
1. Gadget: "All right, how many fingers am I holding up? I'll give you a hint. It's the same number of chipmunks that are in trouble for reading my diary."

<!####################################################################>
---

---
This page was created on 2002-12-01

This page was last modified on 2008-06-16.

Return to Pistachio! Rescue Ranger Captions
Return to Pistachio!
Return To Framwinkle

This page © Copyright 2008, by Framwinkle.