Pistachio! Rescue Ranger Captions
006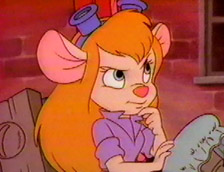 ---
Framwinkle - 2002-12-01
1. Gadget: "Ok, Gadget. Just backtrack. Hmm... attached the levram to the ramshank, tightened the coilspan and angled the hyperbolic cofrolley... carry the two, divide by pi... Nope. I still don't know where I put the keys!"

2. Gadget: "Let's see... The turbulence, screams of terror, and suddenly the plane flew a lot lighter. I know I'm missing something here!"
---
CCC - 2006-02-22
1. Gadget: "Did I remember to put the holding pins back in after maintenance, or are the wings about to fall off again?"
---
Midnight Man - 2006-08-27
1. Gadget: "Wait. Wasn't the Rangerskate supposed to have brakes? ...Nah."
---
dantebunny - 2006-10-15
1. Gadget: "I got it! It's up, up, down, down, left, right, left, right, b,a, and start!"
---
Yunkel - 2007-01-26
1. Gadget: "Go on a romantic date with me? And what its that supposed to mean?"

<!##################################################################>
---

---
This page was created on 2002-12-01

This page was last modified on 2007-03-04.

Return to Pistachio! Rescue Ranger Captions
Return to Pistachio!
Return To Framwinkle

This page © Copyright 2007, by Framwinkle.