Pistachio! Rescue Ranger Captions
007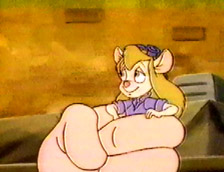 ---
Framwinkle - 2002-12-01
1. At least Gadgephiles are good for something.
Gadget: "Golly! My very own pet Human!"

2003-08-28
2. Brain finally figures out he can use the "human suit" he built to pick up girls.
Gadget: "Golly, Brain! When I said pick me up at 8:00, I didn't know you'd take me so literally!"
---
Tim Phipps - 2003-04-05
1. Intinctively, Gadget tries her best to act as cute as possible to avoid being killed by a young boy.
---
Andrew J. Talon - 2004-02-23
1. Gadget: "Um, listen, you're a nice guy and all, but I really don't think this'll work out. I mean, face it, a goodnight kiss is a bath to me!"
---
NintendoMax - 2005-07-31
http://www.freewebs.com/nintendomaximus
1. Here we find Gadget taking place of Mickey in an outtake of "Brave Little Tailor".
---
Baldwookiee - 2005-09-23
1. "I'll hug it, and squeeze it, and call it George."
---
Jeff "Jedi Squirrel" Hayes - 2006-07-29
1. Gadget: "Golly, Mr Brosnon! I'd love to have dinner with you! But what would Keely Shae say, hmmmmmm?"
---
Loki - 2007-03-25
1. Held in the clutches of yet another curious human Gadget Hackwrench can't help but smile as both she & the human realize that though she's a mouse nobody ever stops to question why she's dressed as a person. Shrugging she chalks it up to people having decended from apes & not to smart to begin with.

<!#################################################################>
---

---
This page was created on 2002-12-01

This page was last modified on 2007-07-07.

Return to Pistachio! Rescue Ranger Captions
Return to Pistachio!
Return To Framwinkle

This page © Copyright 2007, by Framwinkle.