Pistachio! Rescue Ranger Captions
009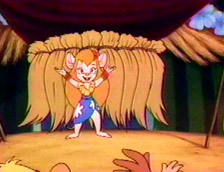 ---
Framwinkle - 2002-12-01
1. Lawhiney: "Thank you! Thank you! And now for my next trick, I'll make the island disapear!"

2003-01-14
2. Lawhiney: "Friends, rodents, countrymen! Lend me your ears!"

3. Lawhiney: "That's right, brothers! Believe in Him and you too can be saved, for a small charitable donation..."

4. Lawhiney: "And up! And up! Come on! Work those arms boys! You don't want to look like your grandmothers, do you?"

5. Lawhiney: "GazeIntoMyEyes!"
Crowd: "Yes, master!"

6. Lawhiney: "Behold! I shall curse you with a rain of marshmellow!"
---
Andrew J. Talon - 2004-02-23
1. Lawhiney: "Friends, friends! I swear, the cable will be back soon!"
---
Larry Larsson - 2005-06-21
1. Lawhiney: "Please, friends! Please! Don't applaud. Just throw money!"
---
Live2dream - 2006-12-09
1. Announcer: "Next up on Amateur Night at the Apollo, Lawhiney and her tap dancing moustaches!"
---
Midnight Man - 2007-03-16
1. Lawhiney: "It's fun to stay at the Y..."
---
Charles Johnson - 2007-06-01
1. Announcer: "And now, heeeeeeeeeere's Lawhiney!"
Lawhiney: "Thank you, thank you! Welcome everybody to my Work-Release program activity, Late-night with Lawhiney! We've got a great show for you tonight! Globetrotter monterey Jack will eat 10 times his body weight in cheese, and stupid human tricks!"

<!######################################################################>
---

---
This page was created on 2002-12-01

This page was last modified on 2007-10-19.

Return to Pistachio! Rescue Ranger Captions
Return to Pistachio!
Return To Framwinkle

This page © Copyright 2007, by Framwinkle.