Pistachio! Rescue Ranger Captions
013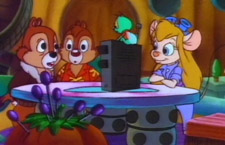 ---
Framwinkle - 2002-12-01
1. Chip: "It's a very nice universal translator, Gadget. But just who are we going to speak to in Klingon?"

2003-04-05
2. Chip: "Of course I'm impressed, Gadget. I just can't understand WHY you bugged Saddam's bathroom!"

2005-11-03
3. Gadget tunes in to Air America to demonstrate her new lie-filtering radio.
Chip: "It's very impressive, Gadget. But what's the difference between this, and just turning the radio off?"
---
Tim Phipps - 2003-04-05
1. The Rangers find out to their surprise, that Gadget is a Sean Hannity fan.
---
Andrew J. Talon - 2004-02-23
1. Gadget: "So, what do you think, guys?"
Chip: "Uh, it's a nice song, Gadget, and you have a GREAT voice... But how many Motown producers know Mousese?"
---
NintendoMax - 2005-07-31
http://www.freewebs.com/nintendomaximus
1. Chip: "The service here stinks!"
---
Mr. Spumoni - 2005-11-01
Chip: "Man, Gadget! You were right...We never realized that you can stand a PS2 on its side."
---
CCC - 2006-02-22
1. Chip: "It's certainly interesting, but I'm not sure that re-configuring Dale's video game machine into an ultrasonic glass shatterer is entirely useful..."
---
Midnight Man - 2006-08-27
1. Chip: "That's a good idea to build a timer into the GBox that turns it off at 10 pm."
Dale: "Awwww..."
---
Live2dream - 2006-12-09
1. Marriage confessions.
Gadget: "Isn't it great Chip! I'm so proud of it!"
Chip: "Gadget... dear... you know I love you and we've been married for a while but... I have something to tell you. *pause* I don't like your inventions."
Zipper: *shock*
Dale: "I'm OUTTA here!"
---
Charles Johnson - 2007-06-01
1. Chip (trying to be patient): "Gadget, I know Dale was scared last night by those strange noises, but I'm afraid I'll have to say 'no' to this. I absolutely forbid an unlicensed nuclear accelerator in the treehouse."

<!#######################################################################>
---

---
This page was created on 2002-12-01

This page was last modified on 2007-10-19.

Return to Pistachio! Rescue Ranger Captions
Return to Pistachio!
Return To Framwinkle

This page © Copyright 2007, by Framwinkle.