Pistachio! Rescue Ranger Captions
014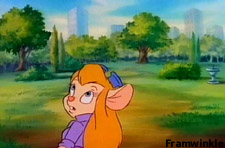 ---
Framwinkle - 2003-01-05
1. Gadget: "Here he comes! Golly! I sure hope Dale managed to get his reentry trajectory right. That water fountain isn't a very large target."

2. Gadget: "Golly! Chip wasn't kidding when he said he'd knock Dale into next Tuesday. Well, this Tuesday, but it was next Tuesday at the time. I mean... Oh! I hope he can aim for the fountain!"

2003-04-05
3. Gadget: "Golly! Godzilla!"

4. Gadget: "GADGET I LOOOOOOOO... Gee, looks like Chip's getting a little carried away with the loops in his skywriting."

5. What Gadget, and the rest of NY, was doing when the Independence Day aliens showed up.
---
Tim Phipps - 2003-04-06
1. Looking skyward upon hearing the booms of shotguns, Gadget relized a little to late that letting Monty fly the Rangerwing during Candian Geese season may have been a bad idea.
---
Andrew J. Talon - 2004-02-23
1. Gadget: "Oops... Guess I left the oven on, huh guys? Eh heh... That smoke plume sure is tall..."
---
CCC - 2006-02-22
1. Gadget: "I don't know what it is, but I don't like the way it's geting bigger all the time..."
---
Midnight Man - 2006-08-27
1. Gadget: "A banner on the Empire State Building? Golly, whenever I think these Gadgephiles can't get any crazier..."

2. Gadget: "Guys, open your umbrellas. The Jamaican fruit bats are back."
---
Mr. Spumoni - 2006-09-22
1. Gadget: "Hmmmm...S-U-R-R-E-N-D-E-R-D-O-R-O-T-H-Y...huh?"
---
Charles Johnson - 2007-06-01
1. Gadget: "Golly, Mr. IRS Agent. I know people are buying our show on DVD, but how many times do I have to tell you that we don't get royalties form their sales? You have to speak to Disney's front office for those income numbers."

<!##################################################################>
---

---
This page was created on 2003-01-05

This page was last modified on 2006-10-01.

Return to Pistachio! Rescue Ranger Captions
Return to Pistachio!
Return To Framwinkle

This page © Copyright 2007, by Framwinkle.