Pistachio! Rescue Ranger Captions
015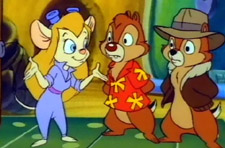 ---
Framwinkle - 2003-01-05
1. Gadget: "....So you see, in a quantum/chaotic/Darwinian kind of way, it really makes sense that Monty turned into a big hunk of gouda."

2003-01-13
Gadget's new invention has a minor flaw.
2. Gadget: "Keys? Golly! I hadn't thought of getting the cuffs off!"

3. Having just read Tom Clancy's "The Sum of all Fears", Chip and Dale were understandably concerned by Gadget's choice of words.
Gadget: "Don't worry guys! I'll have the door to your nut vault unstuck in 3 shakes."
---
The Gnome - 2004-09-26
1. Gadget: "I went to Switzerlend and now I a girl, so...?"
---
Obi-Wan Maplewood - 2005-02-10
Chip (and possibly Dale's) worst (G-rated) nightmare...
Gadget: "Guess what, guys? I've decided to become a nun!"
---
CCC - 2006-02-23
1. Gadget: "...so, actually, I've been an android the whole time. Well, technically a mousedroid, but..."
---
Jeff "Jedi Squirrel" Hayes - 2006-07-25
1. Gadget: "Sorry, Dale, but Padme buys it at the end of Episode 3 after giving birth to Luke and Leia."
Dale: "OH NO! DID YOU HAVE TO TELL ME!?"
Chip: "Great going, Gadget. Now he's going to need therapy."
---
Live2dream - 2006-12-09
1. Gadget: "So after tracing my family heritage back a bit, I found an interesting discovery. We're all related! I'm your half-sister twice removed!"
---
Midnight Man - 2007-01-16
1. Monty: "Why 'aven't ya chased that salesman away, Gadget luv?"
Gadget: "Look at these cute life-sized Chip and Dale plushies he sold me!"

2. Gadget: "C'mon, guys. Sparky will only stay here until he's found a new place to live, and I can need some help at the workshop. Golly, what do you expect to happen?"

<!#########################################################################>
---

---
This page was created on 2003-01-05

This page was last modified on 2007-01-24.

Return to Pistachio! Rescue Ranger Captions
Return to Pistachio!
Return To Framwinkle

This page © Copyright 2007, by Framwinkle.