Pistachio! Rescue Ranger Captions
016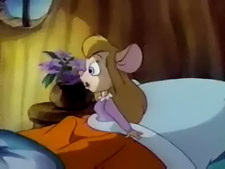 ---
Framwinkle - 2003-01-05
1. Gadget: "Wait a minute! How could I have heard reindeer hooves on the roof? We don't even have a roof!"

2. Gadget: "But it's not fair! How could the aliens come and take Dale instead of me?"
---
Tim Phipps - 2003-04-05
1. Gadget: "SHUT OFF THAT LIGHT!! CAN"T YOU SEE THAT PEOPLE ARE TRYING TO SLEEP!!"
---
Larry Larsson - 2004-08-31
1. Gadget: "What? What is it? Can't a girl get her beauty sleep? Although, truthfully, I don't need that much. But still!"
---
CCC - 2006-02-23
1. Gadget: "Why do I smell something burning?"
---
Midnight Man - 2006-08-27
1. RRHQ, 2:30 am.
Gadget: "Tilting and reversing motors? That could actually work. Gotta go to the workshop!"

2007-03-06
2. RRHQ, 4:00 am.
Gadget: "Golly, I gotta cut down on coffee before going to bed."
---
Obi-Wan Maplewood - 2006-10-03
1. Gadget: "Me and Dale? Chip and Foxglove? I've got to stop reading those "what if?" fics before bed."
---
Severe Weather Eddie - 2006-11-03
1. Gadget: "NOW I remember where I left my wrench...Golly, I hope that it doesn't mess up the mechanism on the Ranger Plane, or Monty'll have a really rough flight back here!"
---
Live2dream - 2006-12-09
1. 4:10am
Gadget: "*GASP!* It COULDN'T have been Colonel Mustard in the kitchen with the wrench!"
---
Charles Johnson - 2007-06-01
1. Gadget: "OF COURSE!!! All I gotta do is get 3 milligrams of anti-matter and seal it in a magnetic bottle within some 10,000 degrees Centigrade hydrogran plasma, and that will provide enough energy to power the space-warp generator! Now, where to find a mouse-sized police box from the 1960's?"

<!###########################################################################>
---

---
This page was created on 2003-01-05

This page was last modified on 2007-10-19.

Return to Pistachio! Rescue Ranger Captions
Return to Pistachio!
Return To Framwinkle

This page © Copyright 2007, by Framwinkle.