Pistachio! Rescue Ranger Captions
017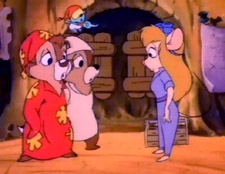 ---
Framwinkle - 2003-04-06
The real reason she despises salesmen: They're the competition. ;)
1. Gadget: "Alright, I admit it. You caught me. I just couldn't help it... I've been moonlighting as a tool salesman."
---
The Gnome - 2004-09-26
1. Gadget to Chip: "Pink?!"
---
Midnight Man - 2006-12-20
1. Gadget: "Golly, I'm sorry for waking you guys up, but the only way to fix that blocked drain was using TNT."

2. Gadget: "Wlachally, I know why your bed collapsed. I needed some parts from it..."
---
Yunkel - 2007-01-26
1. Gadget: "It's 2:00 pm. I see Dale made you stay to watch his marathon movies... again."
---
Charles Johnson - 2007-06-01
1. Gadget: "When you guys asked me to entertain at your pajama party, I thought you would enjoy my lecture on machining non-ferrous fastners. What else did you have in mind?"
---
Silver Shadow - 2007-08-19
1. Gadget: "Boys, I'm glad you've found a mentally active hobby, but don't you think the wizard robes are a bit much for a game of Dungeons and Dragons?"

<!#######################################################################>
---

---
This page was created on 2003-04-06

This page was last modified on 2007-10-20.

Return to Pistachio! Rescue Ranger Captions
Return to Pistachio!
Return To Framwinkle

This page © Copyright 2007, by Framwinkle.