Pistachio! Rescue Ranger Captions
019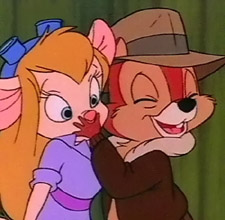 ---
Chipette - 2003-09-09
1. Chip: "Why does everyone like my nose? What about this cute little pink one?"
---
Framwinkle - 2003-10-26
1. Chip sells out.
Chip: "Eh-heh-heh-heh! No! Actually, what Gadget meant to say, Mr. Eisner, is that we'd be happy to do House of Mouse!"

2. Chip: "Erm... Why, no Mr. Eisner! We have no idea how your car just fell apart like that! But I can assure you, the Rangers will make this case our priority!"
---
Andrew J. Talon - 2004-02-23
1. Gadget: "Chip, I finished rigging the jerk Eisner's car to-MMPH!"
Chip: "Er, that's nice, Gadget dear! Mr. Eisner, don't you have to be going now?"
---
Midnight Man - 2006-08-27
1. The Rangers visit the Airbus works at Toulouse, France.
Chip: "Ha ha ha. Honestly, Monsieur Forgeard, do you really believe a cute mouse girl like her knows more about aircraft technology than your whole design department?"
---
Globus - 2006-08-29
1. Chip: "Ok guys, I promise this is the last time I cook! The toilet is in that direction."

2. Chip: "I'm just wondering how long Gadget can hold her breath before she goes purple."

3. Chip to Dale: "Of course she likes me! Don't act so surprised Gadget!"
---
Severe Weather Eddie - 2006-11-05
1. Gadget: "Well, golly! This should work with-MMMPH!"
Chip: "Heh, heh, I'm sure that Gadget's new invention will work perfectly fine!"
---
Charles Johnson - 2007-06-01
1. Chip: "Now, Gadget, what did we discuss about explaining to the vilains how to fix the flaws in their plans?"

<!####################################################################>
---

---
This page was created on 2003-09-09

This page was last modified on 2007-10-13.

Return to Pistachio! Rescue Ranger Captions
Return to Pistachio!
Return To Framwinkle

This page © Copyright 2007, by Framwinkle.