Pistachio! Rescue Ranger Captions
020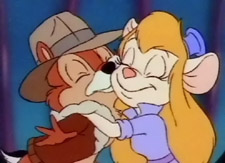 ---
Chipette - 2003-09-09
1. Though he didn't know at the time, Gadget's earlier work with superglue would make this the happiest day of Chip's life.
---
Framwinkle - 2003-10-26
1. Much to Chip's delight as her test subject, Gadget's work with mouse pheromones proves to be a rousing success.
---
Brenda - 2003-11-12
1. After years of rejection Chip finally figures out how to win Gadget's heart.
Gadget: "A NEW TOOLBOX!!!! Oh, Chip you shouldn't have!"
---
Beni - 2005-06-30
http://myspace.com/benkunker
1. Gadget: "I just love the feel of a fuzzy beard."
---
Larry Larsson - 2006-07-26
1. Gadget: "Oh, Chip! Of course I'll marry you! But what do we do about Dale?"
Chip: "Well, do you still remember how to rig a rocket?"
Gadget: "Chip! What a wonderful idea!"
---
Midnight Man - 2006-08-27
1. Chip: 'Ah... the gentle touch of her fur... the sweet scent of pineapple... Wait. Pineapple?"
---
Charles Johnson - 2007-06-01
1. Gadget (high pitched voice): "Oooh, I just wuv my widdle pwushie-wushie! You look just like Chip, yes you do! I could kiss you and hug you and wuv you all night long!"
Chip: "Gadget, you sent your plushie to the dry cleaners, remember?"

2. Gadget: "Chip! It's taken me so long to sort out my feelings, but now I have the courage to tell you. Chip, I love you! Let's fly away and get married!"
Chip: "I can tell you're one of the dimension-travelling Gadgets from the Acorn Cafe. If you'll just turn around, I'd like to introduce you to my wife, Doohickey. Um, Dee? Please put down the carving kninfe."
---
CrashBurn - 2007-08-02
1. Gadget: "Golly! My Chip plush came in!"

<!#####################################################################>
---

---
This page was created on 2003-09-09

This page was last modified on 2007-10-20.

Return to Pistachio! Rescue Ranger Captions
Return to Pistachio!
Return To Framwinkle

This page © Copyright 2007, by Framwinkle.