Pistachio! Rescue Ranger Captions
022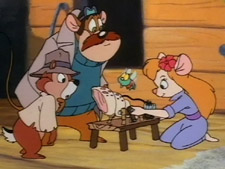 ---
Framwinkle - 2003-09-19
1. Chip: "That's really great, Professor! But does it get Toon Disney?"
Gadget: "Shut up, Gilligan."
---
Brenda - 2003-11-12
Chip: "OK Gadget, Let me get this straight. You can build a radio using only a sea-shell, a paper clip, and a piece of tree bark. BUT YOU CAN'T FIX THE HOLE IN THE $@% BOAT!?"
---
Andrew J. Talon - 2004-02-23
1. Gadget: "Hey! What's that hideous yowling sound?"
Chip: (sigh) "That, Gadget, is Britney Spears..."
---
CCC - 2006-02-23
1. Chip: "Well, all I can hear at the moment is the sound of the sea..."
---
Charles Johnson - 2007-06-01
1. Gadget: "...and if you tweak the phase adjustment like so, then the particle flow is perfectly aligned! There you have it! Sajuuk's prototype hand-held Ranger-sized phasor pistol for dangerous away missions, built using only beach debris. Aren't you guys proud of me?"

<!######################################################################>
---

---
This page was created on 2003-09-19

This page was last modified on 2007-10-13.

Return to Pistachio! Rescue Ranger Captions
Return to Pistachio!
Return To Framwinkle

This page © Copyright 2007, by Framwinkle.