Pistachio! Rescue Ranger Captions
032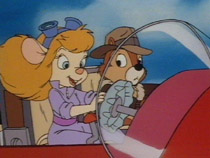 ---
Framwinkle - 2004-10-06
Second thoughts, anyone?
1. Gadget: "I'm glad we're getting married, Chip. Now I won't feel so guilty about asking you to help test my inventions!"
---
Robert (The Gnome) Johnson - 2004-10-08
1. After wondering why the Rangers couldn't ditch Fat Cat's fruit bats.
Gadget: "Golly Chip! In hindsight, I guess your right... Putting turn signals on the Ranger Wing was a silly idea."
---
Mr. Spumoni - 2005-11-27
From the "Royale with Cheese" scene in "Pulp Fiction,"
1. Chip: "They don't call it a Quarter Pounder with Cheese?"
Gadget: "Golly no! They've got the metric system. They wouldn't know what the cotterpin a Quarter Pounder is."
Chip: "What'd they call it?"
Gadget: "They call it a "Royale with Cheese", Chip!"
Chip:(repeating) "Royale with Cheese."
Monty: (unseen in the back) "Did someone mention..."
---
Patchwork Hail - 2006-02-21
1. Gadget: "Golly Chip, the modifications I made to the Ranger Wing only give it a 1 in 10 chance to explode."
---
CCC - 2006-02-23
1. Gadget: "We're not lost, Chip. I'm sure we can find our way back to somewhere recognizable before our fuel runs out..."
---
Charles Johnson - 2007-06-01
1. Gadget: "Okay! Now that we've flown through the life-and-death obstacle course with the newly modified RangerWing, it's time to get an even better time. You'll notice that Dale is setting our course hoops on fire."

<!#######################################################################>
---

---
This page was created on 2004-10-07

This page was last modified on 2007-07-07.

Return to Pistachio! Rescue Ranger Captions
Return to Pistachio!
Return To Framwinkle

This page © Copyright 2007, by Framwinkle.