Pistachio! Rescue Ranger Captions
035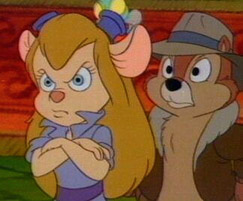 ---
Framwinkle - 2006-08-04
1. Finding her goggles coated with an unidentifiable substance, Zipper offers to lick them clean.
Gadget: "I don't care if it's 'what flies do'! I still think it's gross!"
---
Midnight Man - 2006-08-27
1. Chip: "Calm down, Gadget. It's just fan fiction. Yes, I'm upset about "Gadget in Chains", too, but is that a reason to make the author beta-test your improved salesman traps?"
---
CCC - 2006-08-29
1. Gadget: "You call that proper maintenance? YOU CALL THAT PROPER MAINTENANCE? They haven't even bothered to clean the residue from the fuel pumps!"

2. Gadget: "When we get back into HQ, I'm going to lock Dale out for a WEEK!"
---
Charles Johnson - 2007-06-01
1. Gadget: "How could you? It was our secret, Chip!"
Chip: "I didn't have a choice! It was either be tortured to death or tell the Rangerphiles that you're not a natural blonde."
Gadget: "But no one's supposed to know that it's green! Now all the fanboys are gonna write wierd alien-based fanfics about my mother!"

<!#############################################################>
---

---
This page was created on 2006-08-04

This page was last modified on 2007-07-07.

Return to Pistachio! Rescue Ranger Captions
Return to Pistachio!
Return To Framwinkle

This page © Copyright 2007, by Framwinkle.