Pistachio! Rescue Ranger Captions
037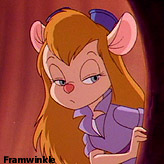 ---
Chipette - 2006-12-11
1. Gadget: "Monty, Dale, and CheeseWiz... No good will come of this."
---
Framwinkle - 2006-12-11
1. Gadget smells something from the kitchen.
Gadget: "Please, let it not be... *sigh* ...walnut walleroos."

2. Gadget: *sigh* "I thought I heard the sound of a pressure cooker exploding."

3. Gadget: "'We'd like to do some experiments', they said. 'Sure! You can borrow my workshop!' I said. I should have known it would involve Diet Coke and Mentos!"

4. Gadget: "Oh, great. Another Marry-Sue."

2006-12-15
5. Gadget: "Wait. You expect me to do WHAT in your fan fic?"

6. Gadget: "You'd like some fan-service? Um, yeah. I don't think so."

7. Gadget: "Lawhiney's kissing Chip again... That's it. This time I use darts instead of plungers."

8. Gadget: "I don't mind the anti's. They're nice people. But seriously, the Chip pinata is a bit much."
---
Midnight Man - 2006-12-14
1. At the Acorn Café.
Gadget: "Ah, how busy the writers are. What do they want me to do this time? How are they messing up my family now? Let's have a look..."

2. At the RRHQ.
Gadget: "Dale, you're surprising me. I didn't know that late night monster movies involve half-cyborgs in trench coats driving around in talking cars."
---
CCC - 2007-01-03
1. Gadget: "I see. Now, which of the chipmunks put my mailing address and my birthday on Gadgephile.com?"

2. Gadget: "Hmmm... I smell a rat. Ah, Capone must be around!"

3. Lawhinie: "Two chipmunks fighting over her? And she doesn't even notice? I'll practically be doing her a favour by taking over her life..."
---
Jeff "Jedi Squirrel" Hayes - 2007-01-11
1. Gadget: "Ok, who took my philips' head screwdriver?"
---
dantebunny - 2007-01-16
1. Gadget: "Great...the boys watching "Naruto" again...can't stand his "believe it" catchphrase..."
---
Yunkel - 2007-01-26
1. Gadget: "I know you love to follow me everywhere, but can I have some privacy in the bathroom please?"
---
Loki - 2007-03-25
1. Gadget: "Rats. just as I suspected. Eisner drank all the coffee again."
---
Charles Johnson - 2007-06-01
1. Gadget: "Hmmm... Dale. Kitchen. Dinnertime. Pressure cooker. I guess it was time to rebuild headquarters anyway."

2. Gadget: "So Dale, you want me to baby-sit Bink after you took her to the Fairy-Pony Land amusement park and fed her $20 worth of sugar. Was I not clear when I said, 'mind-bashingly high I.Q.'?"
---
Dom - 2007-09-18
1. Gadget: "So THAT'S why Dale was asking for the blueprints to my old deathtraps..."
---
Emmie - 2007-12-17
1.Narrator: We've taken all of Gadget's coveralls and put dresses there instead. Let's see if she finds out.

2.Gadget: "Will you stop that noise, I need to.." (falls down) "zzzzzzzz"

<!#############################################################################>
---

---
This page was created on 2006-12-11

This page was last modified on 2008-01-07.

Return to Pistachio! Rescue Ranger Captions
Return to Pistachio!
Return To Framwinkle

This page © Copyright 2008, by Framwinkle.